Obi-Wan Finale - The Loop
Play Sound
Hank Henshaw was an astronaut who was killed when his shuttle is destroyed by an asteroid. He's later resurrected by Darkseid and his consciousness is transferred into a Cyborg body while indoctrinating him to resenting Superman's failure to save the shuttle, becoming the Cyborg Superman.
Biography
[
]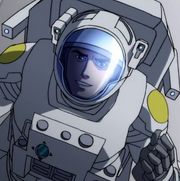 Hank Henshaw was an astronaut aboard the Excalibur space shuttle. He believed that Superman would come and rescue him and his crew from an asteroid, but it crashed against their ship, destroying it. He's later resurrected by Darkseid, and his consciousnesses is transferred into a cyborg body resembling Superman to a degree. Darkseid then brainwashed Henshaw, making him believe that it was Superman's fault that Hank and Terri were killed. Following Superman's death, he's seen flying through space towards Earth.
His first appearance in the film was redirecting a rocket missile from South Kasnia to space, preventing it to reach North Kasnia. When the Justice League disappeared, he established the Cyber Corps consisting of selective volunteers promising the ability to be their own heroes.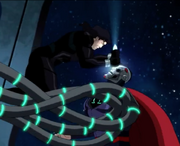 He was later killed permanently after battling with the now restored Superman in the new Watchtower when Superman stabbed him the head with the Kryptonian data crystal which contained the Eradicator program, which promptly "Eradicated" him for the cyborg body. What became of his body following his defeat is unknown.
Powers and Abilities
[
]
Powers
[
]
Weaknesses
[
]
Appearances
[
]
Films
[
]
Comic Books
[
]
Gallery
[
]
Trivia
[
]