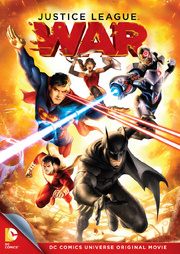 Justice League: War is a 2014 DTV film that sets up the universe created by Justice League: The Flashpoint Paradox. While not my favorite in the series, it is indeed one of the better films in the series.
Good Qualities
It introduces a new dynamic to Batman and Green Lantern that isn't seen before.
It hints at a Superman-Wonder Woman relationship, confirmed in the sequel Throne of Atlantis, which I support.
Bad Qualities
A few problems with the characters:

Superman is more dark, silent, and brooding than Batman.
Wonder Woman is overly childish, which is kind of creepy.

It leaves out the scenes with Aquaman from the source material and replaced him with Shazam who, lets face it, isn't as cool.